Here's the issue of McCoy Review you requested:

February 2018
Inflation bumps RCRA penalties
It's that time of year again. No, not the family reunion (although maybe that too)—annual penalty increases! Effective January 15, 2018, RCRA civil penalties are being raised to keep up with inflation. Read on to see the new costs for noncompliance. READ MORE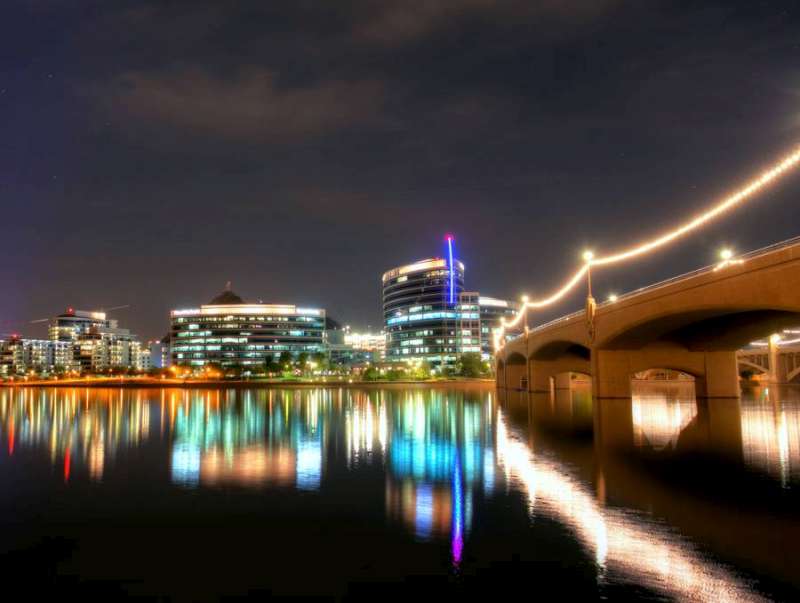 Tasty treats and RCRA training in Tempe
Our next 5-Day RCRA seminar takes us to the Tempe Mission Palms Hotel in the Phoenix metro area, March 5-9, 2018. Take in our expert training from the comfort of exclusive Herman Miller chairs, feast on unlimited snacks from the "snack shack" just outside the meeting room, and enjoy the Arizona sunshine.
After your training, treat yourself to a night out on Mill Avenue, the heart of what's happening in Tempe. Or, take in some Spring Training baseball, which can be found all over the Phoenix area. The spring homes of the Angels, A's, Cubs, and Giants are all within eight miles of the hotel. We'll see you there.
McCoy Seminar Registration
Tempe Mission Palms
Mill Avenue
MLB Spring Training
Satellite container management upgrade

State adoption of the Generator Improvements Rule is happening as we speak. And most states will complete their adoption by June 30. Some of the changes affect how facilities manage their satellite accumulation containers. We break down the intricacies to prepare you for the road ahead. READ MORE
Speed through our Denver Refresher
We'll host our first Refresher of the year at the Sheraton Denver West, March 20-21, 2018 in Denver, Colorado. We pack almost all of the content of the 5-Day seminar in to two fast-paced days of intensive training. If you can't stay off-site for long, this is the training for you. Afterwards, take the light rail to Union Station to explore all that downtown Denver has to offer. Illegal Pete's burritos and the 1up bar are some local favorites. Join us.
McCoy Seminar Registration
Sheraton Denver West
Illegal Pete's
The 1up Arcade Bar
e-Manifest fees add up

June 30 is right around the corner, and that is the date the e-manifest system goes live. EPA will be doling out new fees for manifest usage, and these increased costs could affect everyone in the industry. We've summarized what's happening so you can prepare for the big day. READ MORE
Bats help reduce pesticide use

BatBnB is a small structure that's mounted outside and gives bats a safe place to call home. From their new digs, bats will consume thousands of insects every night, eliminating the need for harmful pesticides. Learn more, and pre-order one from their IndieGogo.
RCRA rules on the horizon
EPA has now formally announced its new RCRA rulemakings in the agency's Fall 2017 regulatory agenda. Last month, when it was posted online, we gave you a rundown of the agency's outlook. Jump over to our article to see how the new waste rulemakings may impact you. READ MORE
Houston, we have RCRA

Join us in Houston, Texas, April 9-13, 2018 for RCRA by the bay. We'll be at the South Shore Harbour Resort, featuring an extensive fitness center, and access to the 27-hole South Shore Harbour Country Club. After your training, head to NASA's Johnson Space Center, located just across Clear Lake from the hotel. Or, visit the classic Kemah Boardwalk, where you can feast on fresh fish at Landry's or brave the Boardwalk Bullet, a traditional wooden roller coaster. Register today.

McCoy Seminar Registration
South Shore Harbour Resort
Johnson Space Center
Kemah Boardwalk
Here comes the flood
How do you prevent flooding in the flatlands? See how a Danish architectural firm is using a remarkable tool to re-shape the landscape surrounding the town of Randers to minimize the consequences of flooding, with minimal environmental impact.
2018 Seminars
5-Day RCRA Seminars
Phoenix: March 5–9, 2018
Houston: April 9–13, 2018
Hilton Head Island: May 7–11, 2018
Seattle: June 18–22, 2018
San Antonio: July 16–20, 2018
Lake Tahoe: August 20–24, 2018
Virginia Beach: September 10–14, 2018
Denver: October 1–5, 2018
Chicago: October 22–26, 2018
Las Vegas: December 3–7, 2018
2-Day RCRA Refreshers
Denver: March 20–21, 2018
Las Vegas: May 30–31, 2018
Boston: July 31–Aug 1, 2018
Houston: November 13–14, 2018
3-Day Puerto Rico RCRA Seminar
Guaynabo: August 7–9, 2018
Visit understandrcra.com to register or call us at 303-526-2674.


If you have received this email in error or wish to remove your name from our subscriber list, you may unsubscribe here. You may also update your profile here. If you need to contact us directly about subscription or other issues, you may email us at mccoyreview@mccoyseminars.com or call us at 303-526-2674.
Copyright ©2018 McCoy and Associates, Inc. 12596 West Bayaud Avenue, Suite 210 Lakewood, CO 80228
McCoy and Associates, Inc. makes no representation, warranty, or guarantee in connection with any guidance provided in RCRA Review. McCoy and Associates, Inc. expressly disclaims any liability or responsibility for loss or damage resulting from its use or for the violation of any federal, state, or municipal law or regulation with which such guidance may conflict. Any guidance in RCRA Review is general in nature related to the federal RCRA regulations. Persons evaluating specific circumstances dealing with RCRA regulations should review state and local laws and regulations, which may be more stringent than federal requirements. In addition, the assistance of a qualified professional should be enlisted to address any site-specific circumstances.